December 9, 2006 by Shin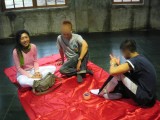 We had very few people available for setting up the venue.
Our English readers may be interested to read this article on Taipei Times for more background of the Nawatsuya (translated as "Tie Me Up Tonight") performance.
On December 1st, the first day of what we call "the grand exam", almost everything that could possibly go wrong went wrong. We did not realise until the first and the only rehearsal that the format of music was wrong. While a TV station was waiting for interviewing Maya, she was locked by mistake in her accommodation about one hour away from the venue. The reporter, hasty and not quite knowing the manners, requested to see Chiaki's shibari but switched the camera off right after taking enough shots and said "that's enough, she can stop now" while Chiaki is still suspending her model. The press conference was very badly attended. Did we fail to inform the media? Were all media busy on the election next week? Or was SM simply not new to them anymore? "What should we do?" With a sense of failure I felt weak and exhausted.
Then I saw the performers on stage for the press conference. Despite the poor attendance, once they are on stage, they do their best. Under the hot stage lights, Chiaki's shibari is still fast and without hesitation. That was the moment I realised what professionalism means. When Kurumi, in his magic trick, pulled a wand out of no where, I saw Linda smiling with her eyes shining. What's to worry about, now that we've got such good performers? I said to myself. Without language, they encouraged us and gave us energy using their performance.
7:45, we got the instruction: time to let the audience in! I felt my stomach aching. Is this the moment we've been working so hard for? Is it real?
It turned out that the first show was so successful that we did not arrange enough seats!
* * *
Being very low-budgeted, we were relying on free advertisement from the media. BDSM Taiwan, who had always been lucky regarding media relation in the previous years, finally encounters the typical love-hate relationship with the media. We were truly grateful to some journalists who wrote their understanding, in-depth stories. On the other hand, there are also tabloids who, behind their cunning wording, merely wanted to know how revealing the actresses would be so they can make up cheap stories about governmental funds sponsoring porn. "I've never seen people so optimistic (or, careless!) like you!" a friendly journalist warned, as if talking to a bunch of fools not knowing what kind of trouble they are getting into.
After discussion, however, we still decided that we will not put restrain on what the performers would do. "Just let them do as what they did in Japan," we agreed. After all, we had just declared as our belief on the symposium a week ago, "Porn is a necessity!"
A gentleman from the Dep. of Culture Affairs, Taipei turned up to see the performance as the duty of our sponsor. We were quite nervous about his turning up, right at the moment before Maya was about to take her clothes off. Then it was Chiaki's shibari. I could not help cheering with my fists weaving when she tossed and tied the ropes with amazing speed and accuracy. With such highly skilled performance, even the Dep. of Culture Affairs would know it's silly to call the show off just for some revealed breasts, right?
Having said so, still, I almost stopped my breath when Kurumi removed Hotori's shirts. It was a great relief seeing the black tape…
Anyway, we passed!
* * *
Another mistake: the starting time of the show on HuaShan Art Center's website was wrong. As a result some audience arrived late. One evening, when this group of four or five people found themselves missing the first 20 minutes of the show, one of them, still parking, just decided not to come with the rest of them at all. We felt awfully sorry for them.
During the middle break of the show, I met a woman from the group again. A hour ago she was upset and unhappy. Now, with her eyes opened wide and smile on her face, she called her friend, "Hey, you really should come to see the show! We were moved to tears!"
* * *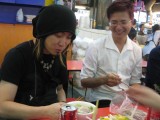 Eating pig brain soup in SheLin NightMarket!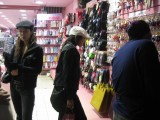 The voodoo dolls are much cheaper than in Japan.
I have taken many foreign friends to ShiLin NightMarket. Most of them would not know what to do, seeing so many things here and there. Chiaki was different. Like a reliable big sister, she quickly learnt the surroundings and started ordering food for people. We heard that in Japan, she also takes care of her fellow actresses very well. In the nightmarket they bought some blankets for themselves because the performers' room was cold. At that moment I felt sorry that I did not do my job well.
Kurumi is even more charismatic in person then in his DVDs. He is smart and humorous, and it was always fun talking with him. In the informal interview by FHM magazine, when being asked how a novice should start learning shibari, he replied, "Buy some ropes!" He then told a story about one completes his training and can be called a nawashi if he can tie tofu — we almost believed him.
I felt that Hitomi is a great actress. From the beginning Japanese dance, she delivered every movement perfectly. Her weeping made many audience cry with her. After the performance I asked her: "did that really hurt so much?" She replied, "Of course, the tears were wept for parting from my lover, not the physical pain!" That was one of the moments when I felt I asked a stupid question…
Hotori impressed everyone as "the girl with a doll-like body!" On stage she is a perfect match with Kurumi's magic (the blade swallowing trick is scary!). Off stage she is a lovely girl who seemed to be very fond of children and animals. She played with the son of Grace Jan, and surprised him by showing her DVD…
An is as cool as usual. It was great having her on stage. It was also lucky that she had the right equipment to play the music! Hope to meet her in Japan again.
* * *
The party! Well, should I say I'm lucky to be served by three famous nawashis at the same time?
* * *
The weather was hot in the first day. Since the second day it got cold rapidly. I felt sorry that they were left in a cold room, listening to loud music from our neighbour activity Simple Life.
But they seemed to know very well how to take care of themselves. Kurumi and Hotori made very good use of their brief free time, having visited very local places including a fortune teller and Taiwanese massage. Chiaki and her fellows found their way to hot springs in BeiTou. They are very different from the foreigners I've known before.
Kurumi needed Zippo oil in his performance. We spent some efforts finding it and had it handed to him. He remembered to thank me in person. On the coach to the airport, they sat on the less convenient side so they can wave us good bye. It is these attentions to details that make their charisma, I believe.
All of them were busy in Japan. I am really grateful that they came to Taiwan to give us a good show.