[:zh]March 24, 2007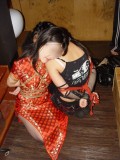 參加無限、楓、和另外兩位朋友的生日 Party。
[:en]March 24, 2007
Invited to the birthday party for Wuxian, Kaede, and two other friends.
(The above is written by MM Shin.)
Akane adds:
The birthday party turned to be a "shibari" session … as usual.
Kaede, the little tied girl, is Ho-sue's girl. She had her birthday on the previous day. How old is she? Very young. Too young. She is almost half as old as I. Oh, my god.
Well, Ho-sue, you would (or should) be sent to a prison.
Minor or major, that is a question.
[:ja]March 24, 2007
私と写っているちっちゃいパンキッシュな女の子(楓ちゃん)は、後学さんのパートナーさんで、前の日が誕生日。
何歳かって、南ナントカさんの歌に出てくる年齢。・・・タイホされるって。
え、私の年齢の半分?
・・・通報してしまいましょう。
若いっていいなぁ。
[:]